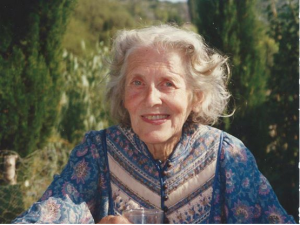 In the summer of 1930, Fernande and her two children, Jeanine and her older sister Jacqueline, left by boat for France as their mother had health problems and wanted a rest. Soon after boarding the ship, Fernande found that she was pregnant and decided to stay in France to give birth and raise the baby there for a few months. Jacques was born in Nice and the family returned to China within a year.
Fernande and the children were back in France in 1935, both for the mother's health and to allow Jacqueline to receive a "good" education at a boarding school. A year later, when the family was just on the verge of returning to China, Jacqueline was diagnosed with pulmonary tuberculosis. Because of this, the family decided to go to Switzerland which, at that time, was the place where tuberculosis was supposed to be cured. They spent 4 years near Lausanne except for the father who had to return to work in Shanghai. Jeanine and Jacques did not go to school but were given lessons at home by a young Swiss lady teacher.
In 1939, the father rejoined his family on a long service leave, but when the Second World War broke out six months later, he was recalled to China. The family hurriedly left Lausanne by car, crossing Northern Italy to Trieste, where they managed to get onto the last passenger boat out of Italy.
When in Shanghai, Jeanine and Jacques again did not go to school but had a Viennese refugee come to give them lessons at home.
When France capitulated to the Nazis, the French concession in Shanghai was taken over by Vichy officials, but Maurice, who did not accept France's surrender, rallied to the Gaullists and became active politically. He smuggled young Frenchmen, who wanted to join the British forces, out of the French concession onto British ships leaving for Britain. In 1940, he was actually invited by the British War Office to join the London Headquarters as a link between the French and British Treasury. But in December of that year, only a few years before the discovery of the miracle antibiotic drug, streptomycin, Jacqueline died, aged 17. So the father finally declined the offer from London as these were the months of the blitz. Nevertheless it was obvious that he had to leave Shanghai, for he was next on the list of Gaullists to be arrested by the Vichy officials. He also knew that the Japanese would enter the war very soon and that he would be at great risk, as he spoke and wrote their language fluently. So some kind of deal was made with the British authorities in Shanghai: the family were given British passports and their surname was translated into English – hence Miller. They left China in August 1941, taking the last cargo boat out of Shanghai bound for Batavia (now known as Jakarta). There they boarded a passenger ship and arrived in Sydney on Jeanine's birthday, the 25th of September 1941, barely 3 months before the bombing of Pearl Harbour.
For the first time in their lives, Jeanine and Jacques went to school in Sydney, Jeanine to Loretto Convent and Jacques to St Aloysius College, both within a few hundred metres of each other. They did not do well during the first year (knowing only a few English words) but then topped every year. In the late 1940s they both went to Sydney University, Jeanine to do an Arts degree (4 years) and Jacques a Medical degree (7 years). After graduation, Jeanine got a very good job in the Mitchell Library, the main library in Sydney.  She remained there with her parents until a year or so after her father died of a stroke in 1961. She and her mother then sailed to London where Jacques, who had married after his medical studies, was doing post doctoral research.
Jacques and his wife returned to Australia in 1966. Jeanine remained in London having completed the M.Litt degree from Durham University and found a wonderful position in research in the Department of Manuscripts at the British Museum. She nursed her mother during her illness and until she died in 1972.
Jeanine was one of the first of Sufi teacher Irina Tweedie's disciples. Jeanine was a Theosophist and had met Irina Tweedie at the Theosophical Society in the 1960s, after Irina's teacher had sent her back to England to spend 2 years away from him. Jeanine helped Irina with the editing of both her books, "The Chasm Of Fire", and "Daughter Of Fire".
Jeanine devoted many years to the study of Sanskrit and of the Vedas. With Georg Feuerstein, a specialist in the classical Sanskrit literature of Yoga, she published A Reappraisal of Yoga: Essays in Indian Philosophy (Rider & Company, London, 1971) – a book that introduced a new approach to Vedic wisdom and the art and science of Yoga.  Fully competent in Sanskrit, she published two major works recognized by scholars: The Vedas: Harmony, Meditation and Fulfilment (London: Rider, May 1974) and The Vision of Cosmic Order in the Vedas (with foreword by Raimundo Panikkar), (Routledge & Kegan Paul, August 1985). Jeanine and Ron Wildego (with whom Jeanine collaborated from 1976 onwards) published in 1988 an enlightened collection of poetry, Reflection on the quest "Master, tell me" (Vantage Press, New York, illustrated by Ginger Gilmour). In January 1996 another work appeared: Does Bhakti Appear in the Rgved. This and The Flame Divine were just two of many such booklets written by Jeanine. A 500 page text written toward the end of her life is published electronically here for the first time, (this site also holds more that she wrote, books, articles and also audios) - The Blazing Dragon of Wisdom -The Esoteric Tradition as enshrined in the Vedas and beyond. Another book has recently been published in India of Jeanine's work  "The Cosmic Waters" (Prism Books Bangalore 2011).
Jeanine lectured in many countries – England, France, Spain, India, the United States, Australia and New Zealand – on a wide range of subjects including classic spiritual texts, mythology, wisdom of ancient Egypt, Sufism, mysticism, symbolism and the perennial philosophy,…. on many different subjects too numerous to fully list here. She was greatly appreciated by her audiences for her ability to bring scholarly subjects alive and to demonstrate their relevance for the universal human quest.  She was loving and faithful to the many who sought her friendship.
Upon her retirement from life as a researcher and speaker, she retired to the village of Feuilla in the south of France where she spent 23 happy years with her companion and husband, Ron Wildego. She passed away in her sleep on August 8, 2013, six weeks short of her 84th birthday.